1

Introduction

2

How to Install ZenTao

3

Upgrade ZenTao

4

Users and Groups

5

Simple Application

6

Basic Application

7

Advanced Application

8

Configuration

9

Custom Development

10

Other Relevant Issues
Check Project Progress via Burndown Chart
2015-09-11 13:30:12
azalea
753
Last edited by tengfei on 2016-12-22 14:33:08
Except for coding and stand-up meetings, the DEV team should have to update the task status and estimate the remained man-hour of the tasks that they are in charge of in ZenTao. ZenTao will generate a Burndown chart according to the overall remainied man-hour of all the tasks. Now, let's look at an example.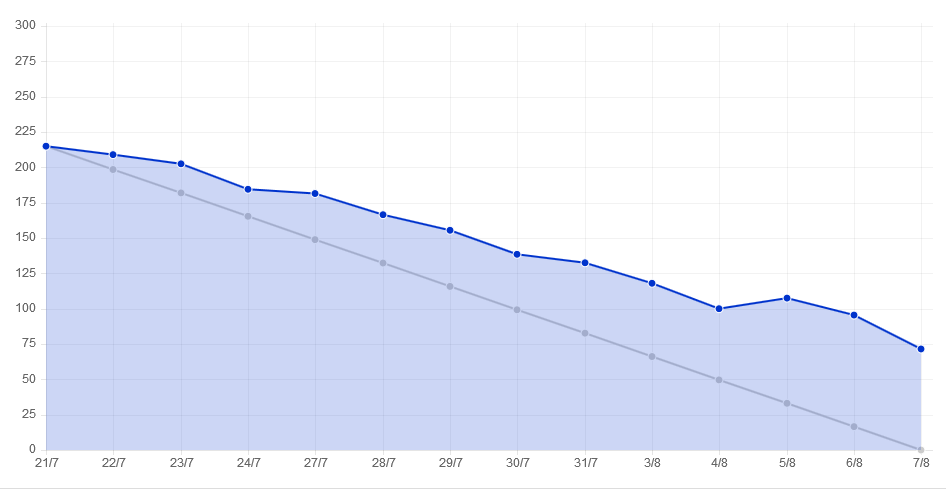 The horizontal axis shows the dates and the vertical axis man hours.

Man hours are the overall remaining man hours of the tasks in the project. The man hours are calculated everyday and form the coordinates, and then the Burndown Chart.

In order to update the Burndown chart, you need to set scheduled tasks. Please refer to How to Update a Burndown Chart.
The difference between Burndown chart and Gantt chart:


The core management philosophy of ZenTao is based on scrum. So its main tool is Burndown chart instead of Gantt chart, which also represents two distinct management ideas. Gantt chart is management by control, which needs to set starting and ending time and predecessor relation strictly while Burndown chart focus more on the remaining time before completing the project. So in our open source version, we do hope that you can make full use of the Burndown chart.




We also provide the functions of Gantt chart in our Professional Version.You can contact us at renee@

cnezsoft.com

to purchase ZenTao Professional Version.